emperorkrulos
New Member



member is offline




Joined: Aug 2010
Gender: Male


Posts: 24

DinoRiders.eu
« Thread Started on Jul 23, 2011, 7:37pm »

---

Hi,

I've just updated my site DinoRiders.eu.



Feedback appreciated.



--Emperor Krulos



P.S.: Please don't confuse DinoRiders.eu with DinoRidersWorld.com. Ted's site has a lot more information and - most importantly - other kind of information.

---

You will go after the Dino-Rider, who humiliated you. Your motivations will be: Hate, fear and envy. I want you to hate your enemy; I want you to fear my wrath, more than anything you fear he may do to you; And I want you to envy victory, so much that you will tear it from his grasp .


Visit http://www.DinoRiders.eu
DinoRidersWorld.Com
New Member



member is offline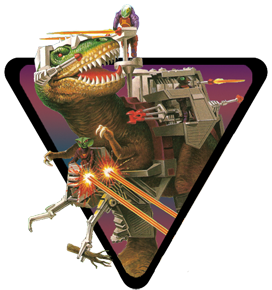 www.dinoridersworld.com





Joined: Jul 2010
Gender: Male


Posts: 23

Re: DinoRiders.eu
« Reply #1 on Jul 25, 2011, 4:12pm »

---

Hey, emperorkrulos, let me be the first to congratulate you on the site.

I know you had contacted me a couple of months ago about the site and we've talked in the past about colloborating. Unfortunately, I've been tied up with work and other projects and so in the interim you have created your own site. The more sites the merrier! Hopefully, we can do something together in the near future.

I think your site is cool - it sort of fills in a gap on my dinoridersworld.com website in that your site focuses a great deal on the cartoon. Being able to see the transcripts for each episode is really great - they must have taken you quite some time to do (a labor of love, no doubt). The panning images are pretty sweet too.

I look forward to seeing more.

emperorkrulos
New Member



member is offline




Joined: Aug 2010
Gender: Male


Posts: 24

Re: DinoRiders.eu
« Reply #2 on Jul 26, 2011, 11:03am »

---

I've been gloating over your response ever since I read it the first time.

Thanks for the positive feedback and the kind words. Yeah my site serves a completely different purpose than yours. Otherwise I would've never started this.

I'm still interested in collaborating with you. You know how to contact me now.


Jul 25, 2011, 4:12pm, DinoRidersWorld.Com wrote:

Unfortunately, I've been tied up with work and other projects



That is something I can relate to. If it hadn't been for my commuting I probably would have never finished anything.

I'm currently trying to finish the last content I have before addressing the shortcomings I have allowed to creep in.


Jul 25, 2011, 4:12pm, DinoRidersWorld.Com wrote:

The panning images are pretty sweet too.



Those were a nice surprise. They are really beautiful and prove how much care and love to details flowed into the cartoon.

I hope to see you around more.

---

You will go after the Dino-Rider, who humiliated you. Your motivations will be: Hate, fear and envy. I want you to hate your enemy; I want you to fear my wrath, more than anything you fear he may do to you; And I want you to envy victory, so much that you will tear it from his grasp .


Visit http://www.DinoRiders.eu
Tylosaurus
Full Member





member is offline




Always In For A Surpirse xD





Joined: Sept 2010
Gender: Male


Posts: 151
Location: The Netherlands

Re: DinoRiders.eu
« Reply #3 on Dec 28, 2011, 4:00pm »

---

d**n that site is nice emperorkrulos! Respect to all your efforts man, I am enjoying the Valorian page btw, great for a good read to refresh my mind about the Dino-Riders and how it all got to that situation on Earth, the Valorian tech always interested me a lot, thanks for keeping your page up to date man

I have not been here for some time, good to see everyone is still around

---

Ruler Of The Late Cretacious Sea's