Post by Tylosaurus on Sept 23, 2010 22:24:18 GMT
Well today my Matrox Parhelia AGP 256MB DDR arrived from Korea

so here it is:
Here two very interesting feature connectors which i think is used to connect to a Parhelia PCI-X 256MB so you can run 4 to 6 monitors at once:
Here compared with the Matrox Parhelia AGP x4 128MB DDR card:
So yeah as you can see, the 256 MB model has alot od seeable differences, even the rear views show that a newer revision of the GPU was used, the 256MB variant has alot less capacitors under the GPU, also some chips were reoved and replaced with improved ones and that the 128 variant lacks them feature connectors to connect a PCI-X card for more monitors.
So yeah for EUR 30,51 incl freeshipping this is a master piece for any various branded VGA collector and a must have as well. 8)
So here it is in the test system:
Sveta SMP 2004
Dual OpteronMP 850 CG, 2x 2405Mhz, 2x 1024KB L2
MSI MS-9130 K8T Master2-FAR VIA K8T800 Chipset
2x 1024MB PC-3200 ECC Reg Kingston Value Ram
Matrox Parhelia AGP 256MB 256Bit DDR Rev.A 4004 [week 40, year 2004]
3dfx Voodoo5 5500 PCI Macintosh 64MB 256Bit SDR Rev.A1 2900 [In Practical 2x 32MB 128Bit SDR]
WinXP Pro USA + SP3
Matrox September 2006 DirectX 9 Beta Driver Package
SFFT Alpha 41 Modified by ps47
Here the Parhelia AGP 256MB in action with DXX-Rebirth 0.56 Beta4 and yes perfect image quality with these settings:
1 Billion Colour mode enabled
FAA x16
Anisotropic Filtering Enabled which is AF x2 mode only, AF x4 & AF x8 are supported by the hardware only never been added in the drivers.
Max ingame settings.
That was fun blowing them up!
Okay! I have uploaded the Reef Demo V1.1 screenshots, 8 of the 20 I made, so here they come

Enjoy friends of x-3dfx
Another VGA card added to my growing VGA card collection ;D
Other things besides this new aquisition, you can go here to all the other VGA cards I have been collecting over the years, each picture links to the gallery of the card's family:
3dfx VGA's:
ATi VGA's:
Matrox VGA's:
NVIDIA VGA's:
S3 VGA's:
Besides VGA cards I also collect Descent & Freespace games, so far it is known as the world's Largest Descent/Freespace collection, the makers from Interplay also told me this also all the members from the Interplay and 3rd party but major Descent forums and comunities, so here the collection, Click to Enter: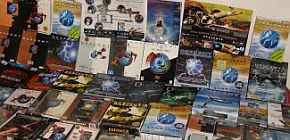 Besides this I also did Air-Craft scale modelling, like these Soviet and American military aircraft, scale they are is 1/72:
These these desktop models were also purchased, these are scale 1/200, how ever the Lampyridae is scale 1/48:
Then there are these G.I Joe and mainly StarWras Star Fighters:
Anyways this is about it amongs the Dino stuff, my apollogies for posting it in the wrong place, nuts happens I'm like.